Looking for new ideas
Hello everybody,
If you have visited NinjaNoJutsu (NNJ) website, you will notice that the project is about ninjas like Naruto.
Really it is a very challenging project, more over that I am not a big company. Believe it or not, I am a solo man doing this. My stronghold is about development and programming; so I was in need to learn a little about many topics such as:
jutsu
sprites
maps
svg
gimp
mmorpg
It has been a very nice experience till now.
I will try to describe a little what the game is about in few paragraphs:
First of all, I must recognize that I am a Naruto fan, so I like a lot the ninja's techniques known as jutsu (the Japanese translation). If you like ninjas, then we have the same feeling and definitively Masashi Kishimoto has created a great manga!
So NNJ is a browser game inspired in Naruto where you will have the role of a Shinobi. Not any shinobi but an elite one. Of course the path to achieve that is hard. Nobody said that become an elite Shinobi is to count one, two and three. But don't worry, you will have fun by writing your own history, by learning the twelve seals and doing Jutsus without limit; by going around the ninja world, training your techniques, proving your skills in combat, interacting with other Shinobis and gaining the respect of the other.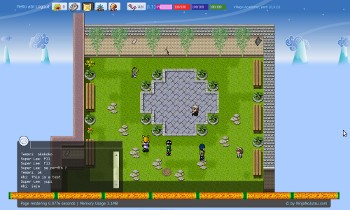 Although I have advanced a little with this big project, it still is so far from a Naruto mmorpg. Also these days I have been stagnant with slow, very slow advancement. Maybe I need fresh and new ideas to continue...
I don't know when this project will be finished, but I am convinced that a great community would push forward a lot the project by providing its great and fresh ideas. By community I mean you!
So don't be shy and register for free